Customer portals for machine and plant manufacturers
On average, only about 25% of the lifecycle costs of a machine reach the machine builder.
Get more out of it – with a future-proof customer portal.
On average, only about 25% of the lifecycle costs of a machine reach the machine builder.
Get more out of it – with a future-proof customer portal.
Your customer portal is actually already ready
Our construction kit for white label customer portals is optimally tailored to the needs of plant and machine manufacturers, component manufacturers or service providers. Your digital customer portal is created by putting together the building blocks that are important for your business.
Whether as a service portal for offering and selling lifecycle services or as a machine portal with digital twins and IoT networking of your installed base: You can offer your customers many useful functions and attractive customer self-service and benefit yourself from your digital customer interface.
With us as your partner for your customer portal, you will benefit from our experience, our know-how and our industry-specific vision.
Put your trust in real experts – the advantages of our solution
Little initial effort required – our construction kit for industrial service portals enables a quick and effortless start.
Clear focus on machinery and plant engineering – i.e. much of what you need is already there.
Individual portal solution with optimal processes and suitable design – and of course the connection to your IT systems.
Our architecture enables endless further development in the future – we all don't yet know what will be important tomorrow.
Your customers expect optimal digital support in the use of their machines
Benefits of a digital B2B customer portal for the plant and mechanical engineering industry
Customer self-service: Your customers can help themselves with many concerns around the clock – this is not only good for customers, but also saves you money.
Digital customer portal: Customers can order services such as training, inspections, spare parts and, in the future, digital services directly via the service portal – this generates additional revenue without sales costs.
Lifecycle service: You are in direct contact with your customer throughout the entire machine lifecycle – with the knowledge of where and how your machines are in use, the service department can make targeted offers.
Optimized machine management: Whether it's fault messages from your customer or service logs from your field service – the entire machine life is documented in the digital machine log.
The shortage of skilled workers and the generation change are causing problems for your customers. Support the operators of your machines and plants with an innovative and comprehensive digital solution. It's not just the young employees who expect it.
Inspire through a unique customer experience
Digital customer portals – adaptive and individually tailored to the user
247FactoryNet's SeamlessUX concept places the user with their different roles and requirements at the center of the digital customer portal solution. As a result, you create a comprehensive, intuitive and truly beneficial digital assistant for your customers – whether in the role of factory manager, maintenance staff or operator.
Working in the background of this solution is our KnowledgeHub technology, which provides all the information needed and simultaneously generates new knowledge about the customer. If machines are to be connected live, KnowledgeHub also acts as an IoT platform. Your customer portal thus becomes your future-proof IIoT service platform.
Read more about our offering for IoT solutions here.
The central point of contact for the user is the IIoT customer portal, which is built individually according to your requirements. This service platform is available via a browser-based web application as well as a native app for Android and iOS devices.
The switch between web app and native app is seamless. Likewise, any other apps can become part of this IoT service platform, e.g. taking over special functions or being developed for a single customer only. Discover our industrial app and software development offering here. Existing solutions can also be integrated into the ecosystem so that there are no breaks in the user journey and no need for multiple logins.
Your customer has everything in view and so does your service!
Benefits for your service technicians
There is also a chronic shortage of skilled workers in the service sector, which is why the provision of information plays a central role. Of course, your service department can also access the digital knowledge in the digital machine portal via special applications:
Create machine book entries
attach logs or
exchange know-how with the customer's maintenance department.
Of particular interest for interaction with maintenance is the ability to send fault descriptions and chat for diagnosis and troubleshooting via the digital customer portal. Our chat function is even capable of automatically translating into any language without the interlocutors noticing.
In line with your service strategy
Basically, however, the functionality of the digital service platform is adapted to your relevant use cases and your existing solutions.
Your service strategy shows the way from the classic machine business to an integrated machine and service provider. Digital services will play a central role in the value proposition and competitive differentiation in the future. Your digital customer portal provides the basis on which this strategy is realized.
Read more about our consulting offering for digital transformation
We tailor our offer for customer portals to your individual requirements
Conception of your digital customer interface – matching your service strategy
Design and interaction model
Development of your individual service portal
Connection to your IT systems
Operation, maintenance and service
We work exclusively for the plant and mechanical engineering industry. Therefore, our solution for industrial B2B customer portals offers many relevant functionalities such as an IoT connection of the machines via OPC UA, mobile solutions with corresponding offline functions and much more. Above all, we are permanently developing our portal building block for the industry-relevant use cases and with the corresponding technologies.
With us as your partner for your customer portal, you benefit from our experience, our know-how and our industry-specific vision.
Have we aroused your interest?
Examples of content for an industrial Customer Self-Service (CSS) portal.
All the information the customer needs:
Documentations
Maintenance plans
Spare parts lists
etc.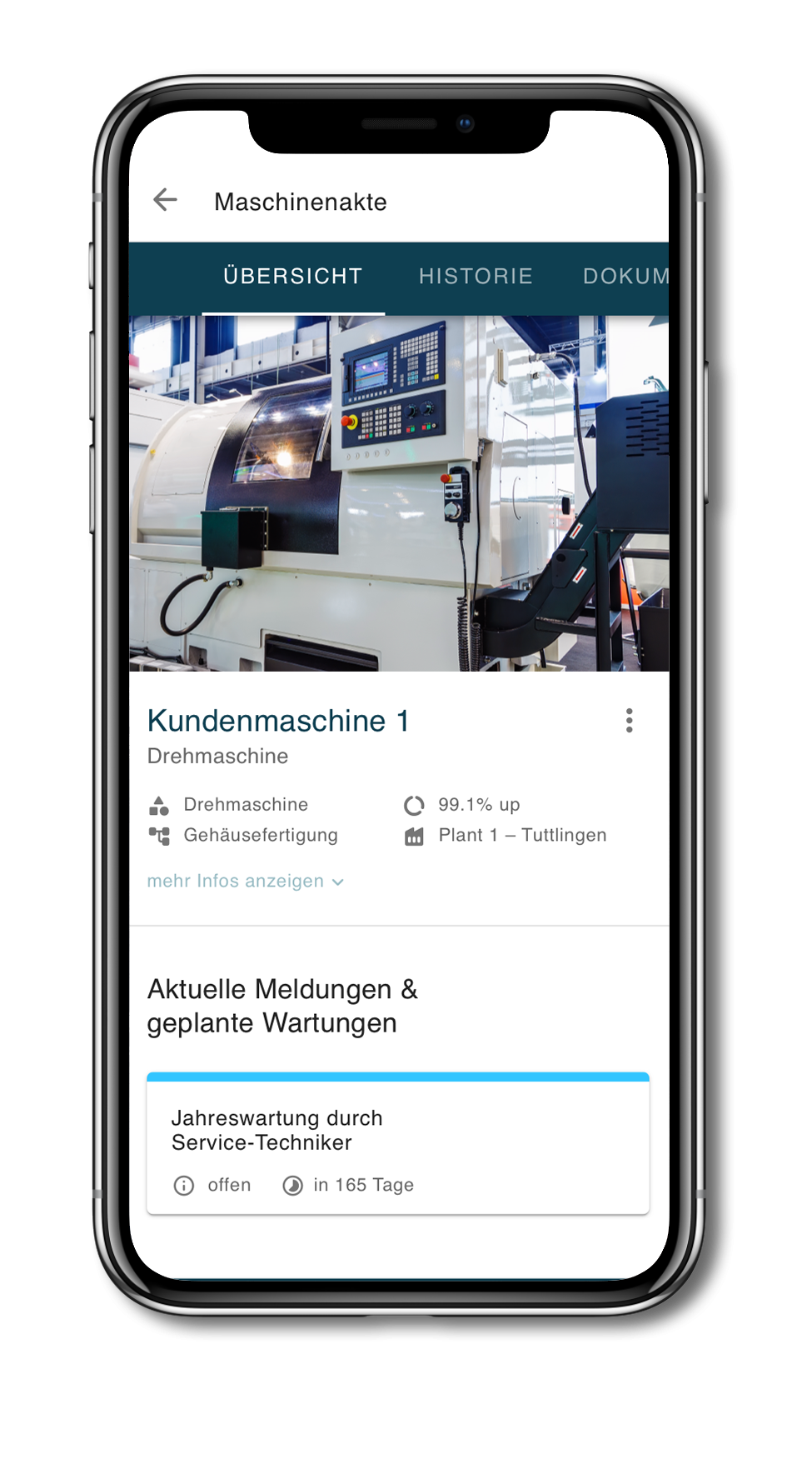 Overview of current services:
Spare parts packages
Maintenance contracts
Trainings
etc.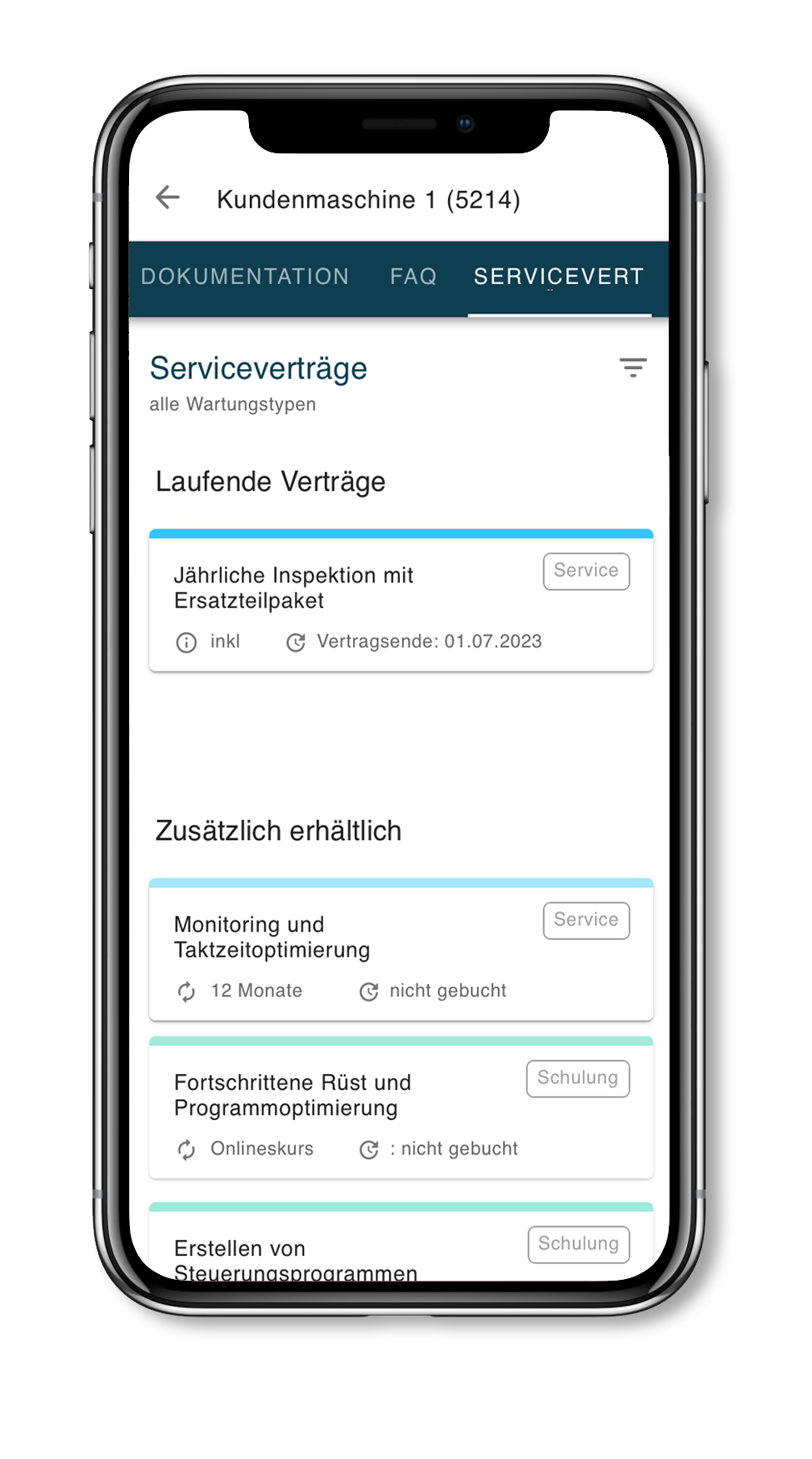 Receipt of meaningful fault reports from your customer, as a basis for customer service and documentation.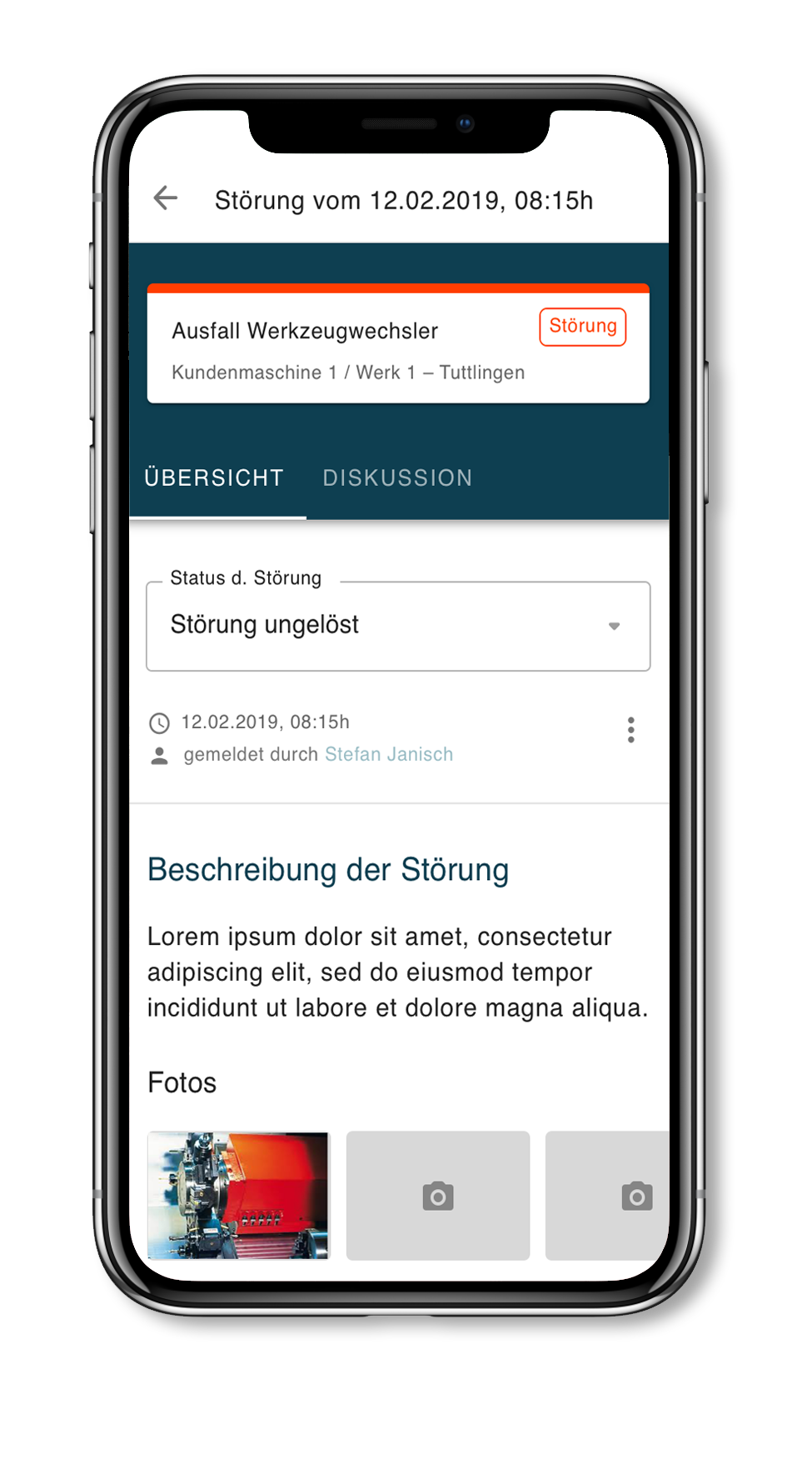 Machine connection: No more wasting valuable data!
Seamless integration into your data world
Your digital knowledge is the foundation for future business. It is therefore crucial to rely on an end-to-end data basis and ensure consistency across the board. For this purpose, your digital customer portal should be connected to your ERP system to achieve optimal automation and provision of data.
Depending on the ERP system and existing data structure, we develop an individual interface to your customer portal that enables this coupling – naturally in accordance with the highest security standards. Data that cannot be made available via your existing systems is managed in the backend of the customer portal solution.
A connection to SAP can be established, for example, via the SAP Business Technology Platform and any existing equipment structure.
But even if internal data is not yet available to the desired extent, a digital customer portal makes sense for plant and machine manufacturers. Even then, you can already provide your customers with a wealth of information, learn a lot about your customers, and gain important experience with a digital customer interface and digital customer self-service.