Mobile apps for machine and plant manufacturers
Mobile apps have long since become part of our daily lives and quite naturally do things that we would not have thought possible just a few years ago.
It is therefore clear that mobile apps are also capable of realizing functions in industry that enable completely new service offerings and business.
Industrial mobile apps will therefore be a matter of course in just a few years – and not just for the younger generation.
Mobile apps have long since become part of our daily lives and quite naturally do things that we would not have thought possible just a few years ago. It is therefore clear that mobile apps are also capable of realizing functions in industry that enable completely new service offerings and business.
Industrial mobile apps will therefore be a matter of course in just a few years – and not just for the younger generation.
New services through mobile apps
The opportunity for machine and plant manufacturers to stand out from the competition with an even better machine is becoming increasingly rare. And this is despite the fact that many customers are more dependent than ever on the support and expertise of their machine suppliers due to increasing complexity and a shortage of skilled workers. Against this background, data-driven services and thus also mobile apps are playing an increasingly important role in supporting machine operators.
The trend towards servicing in machine and plant engineering will be strongly reflected in mobile services or IoT applications. Many machine builders have already launched their first applications. However, relevant new technologies and trends such as augmented reality, 5G, gamification or even artificial intelligence are only just beginning. It is therefore to be expected that the mobile applications that are already in the field today mark only the beginning of a complete revolution of the customer interface.
Read more about our offer for customer portals here
Development of digital services according to the 3-phase model
The development of digital applications differs fundamentally from the known development methods in mechanical engineering. From our diverse project experience, we have developed a 3-phase model that combines the proven methods of software development and startup culture with the requirements of industry. This not only helps our customers avoid the usual painful initial mistakes, but also creates an agile, digital mindset in the company.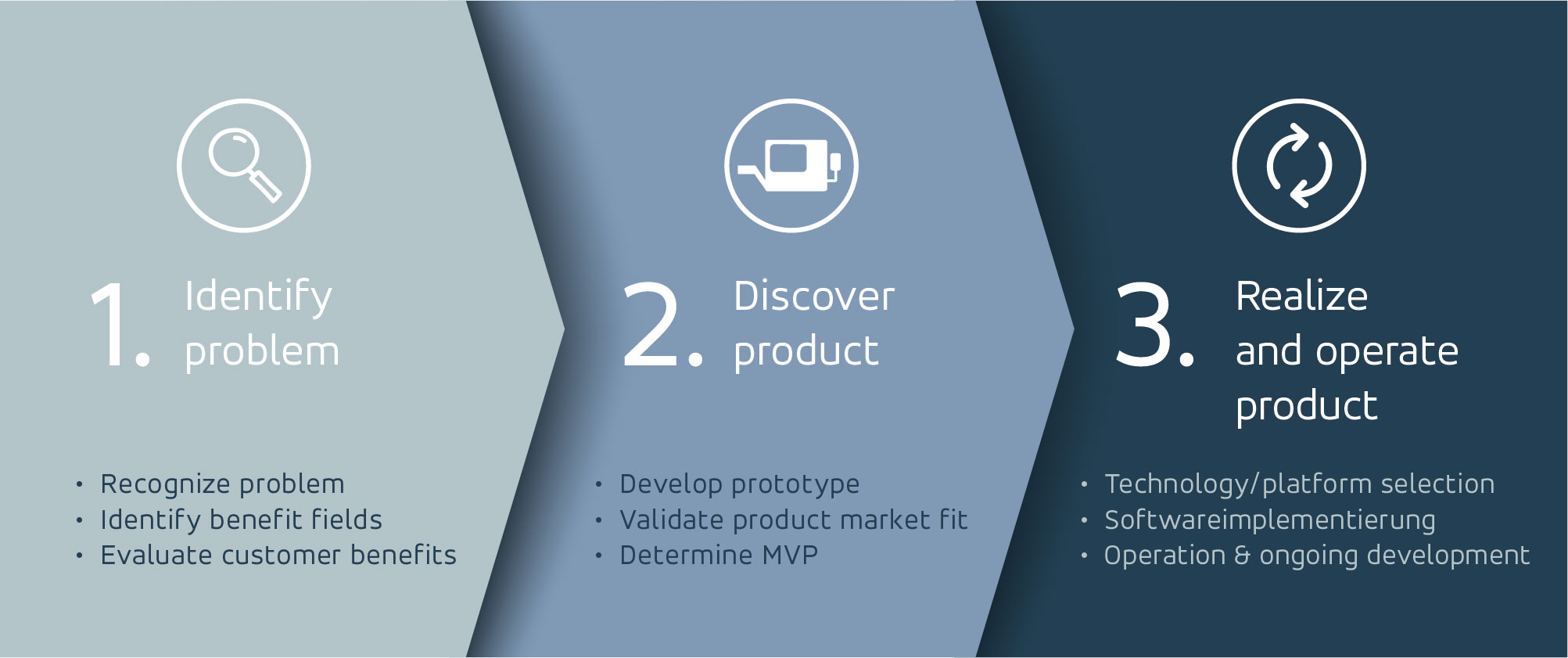 Mobile apps have exciting innovation potential for machine and plant manufacturers
New business models with mobile service apps
Lifecycle services offer numerous potentials for new business models for machinery and plant manufacturers. In future business models, the machine itself will often only play the role of a data supplier, on which smart service business models will be built. In line with the view that "the customer doesn't want a machine, he wants a produced part," future business potential will arise much more from the question of how the machines can be digitally integrated into the customer's processes, how quality monitoring can be automated, or how the machine can contribute to optimizing overall process efficiency. For example, service apps for machine maintenance can create tangible benefits, where the machine builder's know-how is made available to its customer for its own use.
Smart services: Make your know-how digitally available to your customer. This will make him better than with your competition.
Data-Driven Business Models: IoT Applications can be used by your customer 24/7 without incurring additional costs.
Mechanical engineering apps: From the gearbox to NC control to the cloud. This is the innovation lever of the future.
For innovative machine and plant builders, service has long ceased to refer to the department that supplies spare parts and repairs machines. Service orientation is a trend that affects the entire company and, above all, the business models. Machine as a Service will find its way into future business models through IoT solutions and mobile applications. As a machine and plant manufacturer, you should therefore build up experience with these technologies now.
247FactoryNet supports you on the whole way of developing modern mobile apps
Enhanced user experience: machine, operating panel and web applications
Digitization in mechanical engineering will also be reflected in a completely new user experience that will enable machine operators and maintenance staff in particular to work with the machine in a completely new way. Not only will machines become largely autonomous and, for example, know themselves how to restart them in the event of a malfunction; the users of the machine will also receive role-based user guidance via any interfaces. In this world, mobile apps represent a central technology for offering the customer the highest possible benefit.
Learn more about future-oriented HMI development by 247FactoryNet
Shorter innovation cycles and differentiation through machine building apps
However, digital technologies will also lead to internal changes for machine and plant manufacturers. On the one hand, the potential for differentiation through pure machines will decrease; on the other hand, the potential for differentiation through software will increase significantly. At the same time, this will also significantly increase the innovation cycles within which machine and plant manufacturers will provide new software updates with new and better functions.
This requires new development methods and an agile organization. Learn more about our consulting services in the area of agile methods. Especially in the area of mobile service apps, updates can be brought into the field comparatively easily, since there is no direct connection to the machine. This ensures that the customer can always be offered innovations and new benefits throughout the entire machine lifecycle. This offers new sources of revenue, as new business models of automotive manufacturers also show.
We tailor our offer for mobile apps to your individual requirements
Use case and business model development for mobile service apps
Solution architectures also with IoT networking and integration into existing solutions
Design and implementation as native or web app
User tests with prototypes of your mobile apps
Operation and hosting of mobile apps
Examples of mobile apps for machine and plant manufacturers
Digital machine logbook for recording machine history via smartphone
Project goal
Simple, digital documentation of the machine's life to gather experience and as a basis of information for service visits to the customer.
Challenge
The acceptance of the app by the users is crucial in order to achieve the penetration necessary for the machine builder. For this, the app to be developed must offer machine operators clear benefits and good usability.
Solution
First, the business model and the central use cases of the Servcieapp were designed. This early content was already discussed with potential users and optimized in the course of this. The permanent coordination with potential users was also maintained during the implementation phase and always accompanied by our team. In this way, it was possible to create a result that is very popular with users today and provides important information for the machine manufacturer.
Fault recording via smart device
Project goal
To record and report malfunctions as comprehensively as possible by the operator himself, thereby relieving the hotline.
Challenge
In order to increase the feedback rate of problems and faults by the customer, the effort required to record a meaningful fault report should be significantly reduced with a digital solution. At the same time, it must be possible to use the information obtained in the customer file and for permanent technical development.
Solution
Development of a mobile app for recording and reporting malfunctions, which can also be used as an internal machine tool for machines from other manufacturers. This enabled a high level of customer acceptance to be achieved. The incidents reported by the customer are documented in the CRM using a developed interface.
Monitoring solution for displaying the health status of machines
Project goal
Health diagnosis of machines as a digital service
Challenge
To diagnose the state of health, the relevant machine data must be transmitted via IoT to a platform operated by the machine manufacturer. A suitable algorithm must be used to interpret the machine data.
Solution
The machine data is pre-processed in the Edge Controller with 247NetConnect and transmitted to the IoT platform 247KnowledgeHub. An automatic review of the data allows an assessment of the health status to make predictions. By means of semantic modeling of digital experiential knowledge and AI, the prediction accuracy is permanently improved.
Mechanical engineering apps: this is the innovation lever of the future.
Mobile apps can be pronounced as native applications that are installed on the mobile device and are thus functional even when the device is not connected to the Internet. Web apps, on the other hand, can provide approximately the same functionality, but run predominantly in the cloud and are only displayed on the device. Web apps are therefore not available offline, but offer the advantage that no local installation is required. However, for more complex applications or for mobile apps with IoT connection to the machines, parts of the software also run in the cloud, which is why only limited functionality is available offline in this case. Which architecture is best for your application depends on the use case that is to be realized and on planned further developments that are already foreseeable.
247FactoryNet supports you on the entire way of developing innovative mobile apps – no matter if it is about the development of first ideas and business models or about software technical implementation of prototypes as well as the final application.
Take advantage of our many years of experience. Because often initial solutions can be created with manageable effort.